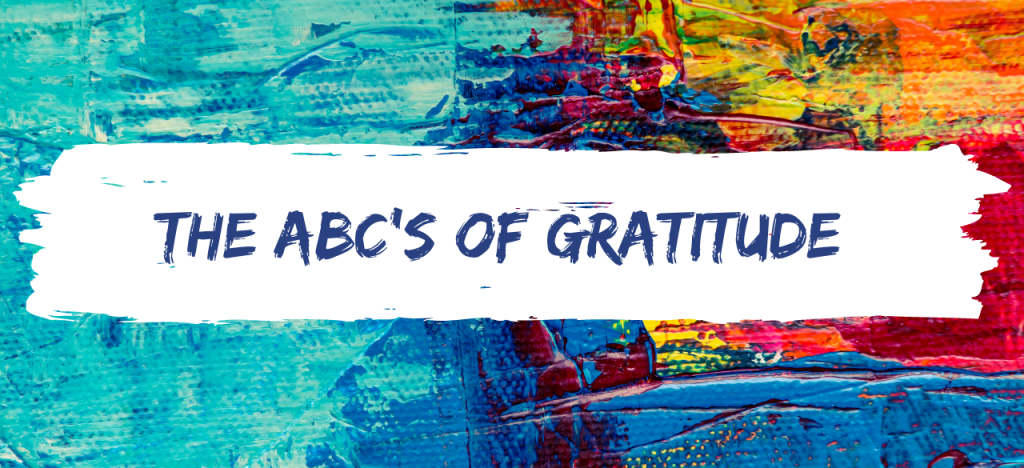 It may seem trivial to some, but Thanksgiving Day this year is on November 26 … exactly enough days to consider gratitude using our alphabet!
I've been participating in theology courses hosted by our pastor at church for a year or more. This semester we are reading Christopher Wright's Knowing the Holy Spirit Through the Old Testament.
Wright points out the first person mentioned in Scripture being filled with the Holy Spirit is Bezalel …
Moses said to the Israelites, "See, the Lord has chosen Bezalel son of Uri, the son of Hur, of the tribe of Judah. He has filled him with the Spirit of God—with skill, with understanding, with knowledge, and in all kinds of work— to design artistic designs, to work in gold, in silver, and in bronze, and in cutting stones for their setting, and in cutting wood, to do work in every artistic craft. (Exodus 35:30-33 NET)
Wright says in his book … "the same Spirit of God who was at work in creation is also at work in that same wider sense, in all those who, as human beings made in God's image, enrich our world with all kinds of creativity in art, music, colorful design, beautiful craftsmanship."
I'm grateful for artistic expression, craftsmanship, and the amazing beauty that fills the senses!
For the art of baking … the rich smell of fresh bread filling a kitchen
For the many shades of a single color – a joyful painting of a sunset
For a well-designed home – textures and colors that invite family to gather
For the beauty of music that lightens the soul
For a well-written sentence that sparks the imagination
Perhaps art can help us to look beyond the immediate beauty with all its puzzles, and to glimpse that new creation which makes sense not only of beauty but of the world as a whole, and ourselves within it … The artist can then join forces with those who work for justice and those who struggle for redemptive relationships, and together encourage and sustain those who are reaching out for a genuine, redemptive spirituality. (N. T. Wright)