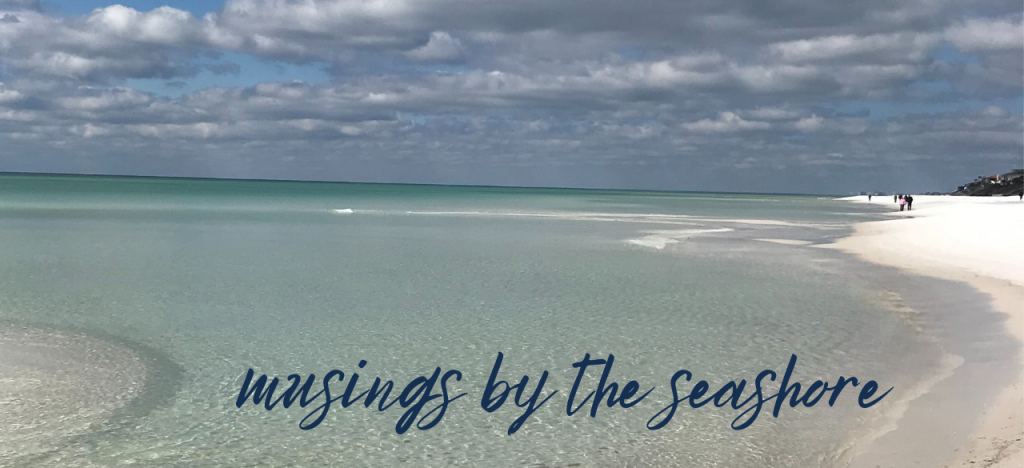 You were made for a purpose. You were made to reflect someone who is infinite and limitless, which means there is plenty of uniqueness and creativity to go around. You were made to take what God has given you and do amazing things.

The Bible Project
Ron and I talk about what we have learned in these quiet days on the beach. My friends ask me what I have been learning. Sometimes the question feels too difficult! I spent a lot of time in quiet, in reading scripture, in prayer, in walking on the beach. I felt ideas, impressions, thoughts … now I sort through them to find meaning, to capture in a few sentences what lessons I've learned.
One idea that Ron and I discuss often is how do we live in the reality of what God says about us!? There are too many scriptures that testify to what He thinks about me – but here is a sampling – I encourage you to make your own list!
I am created in His image (Gen. 1:27)
I've been crowned with glory and honor (Ps. 8:5)
I am an heir of God, co-heirs with Christ (Rom 8:17)
I'm no longer dead in sin, but alive with Christ (Eph 2:5)
I am free from the law of sin and death (Rom. 8:2)
I can't be taken from His hand (John 10:29)
His Spirit dwells in me (John 14:17)
God's love has been poured into my heart (Rom. 5:5)
I am being transformed (2 Cor. 3:18)
I am being conformed to the image of Christ (Rom. 8:29)
I am light in the Lord (Eph. 5:8)
I have all things that pertain to life and godliness (2 Peter 1:3)
I have victory in Jesus (1 Cor. 15:57)
I am a citizen of heaven (Phil 3:20)
Jesus said, "I came that they may have life and have it abundantly." Pondering that abundant life. It's quite possible that I can't experience abundance until I realize how much Jesus thoroughly loves me, how much He longs for me to live in the truths His word teaches about my redemption!
In distress, in difficult circumstances, even in the ordinariness of life, it is easy to think of myself poorly, wallow in pity, or to consider myself unworthy of rescue. After all, the fact is, I do still sin. But what must Jesus think when I continually claim my brokenness to define me – denying his sacrificial love for me? Jesus wants to lead me to a deeper understanding of the work He has done — He is not teasing me with the idea of abundant life — He means for me to live in that abundance.
Wallowing in shame, remorse, self-hatred, and guilt over real or imagined failings in our past lives betrays a distrust in the love of God. It shows that we have not accepted the acceptance of Jesus Christ and thus have rejected the total sufficiency of his redeeming work…and preempts the presence of a compassionate God.

Brennan Manning, Ruthless Trust
I can celebrate with abandonment His great work on my behalf knowing that there is nothing I can do to make Him love me more nor love me less. His work is complete, sufficient – I not only rest in Him, I thrive in Him!
Here is a trustworthy saying … if we are faithless, he remains faithful, for he cannot disown himself.
2 Timothy 2:13
Because of the Lord's great love we are not consumed, for his compassions never fail. They are new every morning; great is your faithfulness.
Lamentations 3:22-23
… you are being kept safe by God's power, through faith, for a rescue that is all ready and waiting to be revealed in the final time …
1 Peter 1:5
"Abandonment is the delicious fruit of love."— St. Augustine.
My heaven it is to feel in me some likeness blest To Him Who made me and my soul hath reconciled; My heaven it is always beneath His eye to rest. To call Him Father dear, and be His loving child. Safe shielded in His arms, no storm my soul can fear; Complete abandonment my only law shall be. To sleep upon His Heart, with His blest Face so near, – Oh, this is heaven for me!

SAINT TERESA OF LISIEUX
I thirst the abundant life to know,
The largeness of Thy love;
Wilt Thou the Holy Ghost bestow,
In fullness from above.

Break down the idols, O my King,
And set my spirit free;
Make Thou my soul with gladness sing,
In perfect liberty.

I hate the ties of earth that bind
My soul to sensuous things;
I long in fuller life to find
The joy that freedom brings.

I would be fully set apart,
And separated be;
Reign Thou supreme within my heart
To all eternity.

J.H. Myers