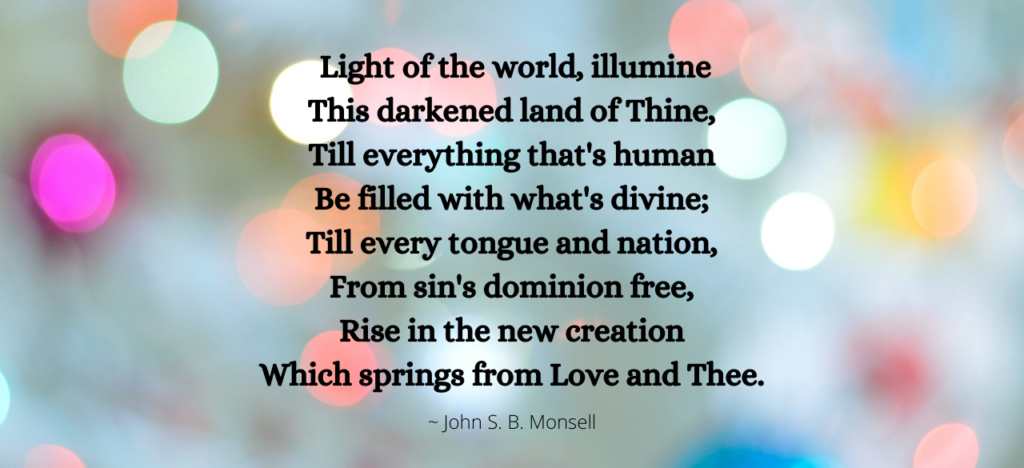 When Jesus spoke again to the people, he said, "I am the light of the world. Whoever follows me will never walk in darkness, but will have the light of life."

John 8:12
---
Light is beautiful! We've just experienced the lights of Christmas, twinkling ones, some that dance to music, all-white, multi-colored … great crowds of people follow the lights. Why? They remind us of the joy inherent in Christmas.
Light is also mysterious. I'm sure those of you who are into physics could explain it to me, but I guess it still has some unknown elements.
---
Light pushes out the darkness, revealing the hidden.
It promotes growth, supports life.
It warms and comforts.
It is powerful.
Jesus is powerful!
Jesus welcomes us, gives us peace.
Jesus is the source of all life, creation, spiritual life.
Jesus reveals God, reveals the truth about life and destiny.
---
For God, who said, "Let light shine out of darkness," made his light
shine in our hearts to give us the light
of the knowledge of God's glory displayed in the face of Christ.

2 Corinthians 4:6
---
In Genesis, the first creation, God invites the light to shine out of the darkness. When creating new life in us, He again makes His light shine in us, the knowledge of His glory!
---
You are the light of the world—like a city on a hilltop that cannot be hidden. No one lights a lamp and then puts it under a basket. Instead, a lamp is placed on a stand, where it gives light to everyone in the house. In the same way, let your good deeds shine out for all to see, so that everyone will praise your heavenly Father.

Matthew 5:14-16 NLT
---
Not only is Jesus our light, but He commands us to be light. But we cannot cause it … can't make it appear! We can only reflect it by keeping ourselves in the path of its beam!
The secret of seeing is, then, the pearl of great price. … But although the pearl may be found, it may not be sought. The literature of illumination reveals this above all: although it comes to those who wait for it, it is always, even to the most practiced and adept, a gift and a total surprise. … I cannot cause light; the most I can do is try to put myself in the path of its beam. It is possible, in deep space, to sail on solar wind. Light, be it particle or wave, has force: you rig a giant sail and go.

Annie Dillard, Pilgrim at Tinker Creek
---
We reflect Christ as His image-bearers. Image often refers to an icon, a physical idol, so in that sense, we are physical representations of our God. The implication of being "in His image" speaks to our relationship with creation – initially, we were to rule and subdue the earth. We are his royal representatives to lead and mediate blessings to the world, shining like stars in the sky as we do the good works He created us to do.
---
Give me your lantern and compass, give me a map, So I can find my way to the sacred mountain, to the place of your presence, To enter the place of worship, meet my exuberant God, Sing my thanks with a harp, magnificent God, my God.

Psalm 43:3 MSG
---
As you pray today, thank God for the light! Turn your attention to Him, and choose to be in the path of His beam reflecting Him as you walk in His ways!
---