The secret of seeing is, then, the pearl of great price. … But although the pearl may be found, it may not be sought. The literature of illumination reveals this above all: although it comes to those who wait for it, it is always, even to the most practiced and adept, a gift and a total surprise. … I cannot cause light; the most I can do is try to put myself in the path of its beam. It is possible, in deep space, to sail on solar wind. Light, be it particle or wave, has force: you rig a giant sail and go.

Annie Dillard, Pilgrim at Tinker Creek
I cannot cause light! Thinking about this as I write.
God said in Genesis, "Let there be light," and there was light.
He said through Isaiah, "I form the light and create darkness, I bring prosperity and create disaster; I, the Lord, do all these things."
John, the disciple writes, "The light shines in the darkness, and the darkness has not overcome it."
Jesus said about himself, "I am the light of the world. Whoever follows me will never walk in darkness, but will have the light of life."
Paul in his letter to the Corinthians clarified the light, "For God, who said, 'Let light shine out of darkness,' made his light shine in our hearts to give us the light of the knowledge of God's glory displayed in the face of Christ.
This has been a stormy season. The pandemic has disrupted the typical flow of our days. Our extended family didn't gather at the beach this year. The grandkids are schooling from home. We meet with friends outside to visit. And while it can feel dark, there is still much light! Our abundance still overflows! Dark and light dance together in joyful rhythm!
As the darkness and light joyfully dance today, I found myself humming a favorite hymn-
When upon life's billows You are tempest tossed
When you are discouraged Thinking all is lost
Count your many blessings Name them one by one
And it will surprise you What the Lord has done

Count Your Blessings by Johnson Oatman 1897
This is my desire – to put myself in the path of the beam of light, holy light, and sail on the wind of the spirit – mixing metaphors but to dance while counting blessings!
I quiet myself, wait before him and ask for my eyes to be opened, to see the truth he has for me to see, to enter the place of worship –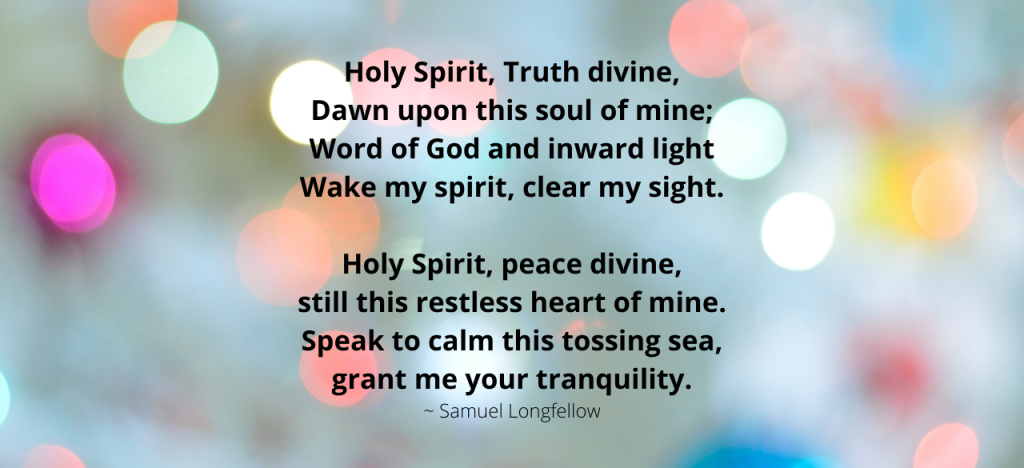 Give me your lantern and compass, give me a map, So I can find my way to the sacred mountain, to the place of your presence, To enter the place of worship, meet my exuberant God, Sing my thanks with a harp, magnificent God, my God.

Psalm 43:3 MSG
I cannot cause light; but I can choose to be in the path of its beam as I allow His light to shine in my life!