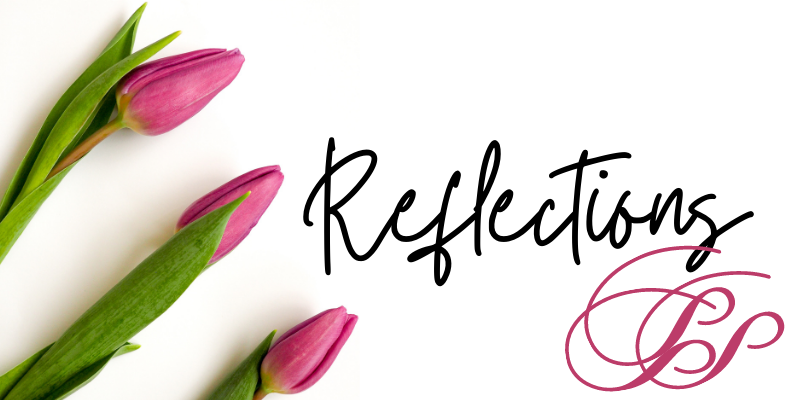 Trying out a different style of reflection today … hoping to set aside time bi-monthly for this style of remembering using "the Simple Woman's Daybook!"
For May/June
Looking out my window
It's cloudy again today with more rain on the way. It's been a particularly wet May and June so far. I'm not complaining – we experienced a drought in the past few years. At the same time, I do miss the sunshine. The flowers are looking pretty though!
---
I am thinking
Three things I am thinking about today –
About how love fulfills the law according to scripture
About how to build a landing page or home page for this blogging site
About the blog series I might want to write about next
I am thankful
I am thankful that scripture affirms that God will complete the work He has begun in me. I can trust Him completely.
One of my favorite things
One of my newer favorite things are the mugs and drink-ware I bought recently. The varying hues of blue remind me of the sky and sea … and they make me smile.
---
I am creating
My creative efforts are all about learning to write more effectively and to make the reader's experience on the blog more interesting. I joined Hope*Writers recently and I'm inspired to develop this hobby a bit.
I am wearing
My everyday uniform … my black t-shirt and stretchy capris – perfect for a rainy, indoor day!
I am reading
I am reading several books –
Our Good Crisis by Jonathan Dodson; I am slow reading this book. It's a deep dive into the Beatitudes from the perspective of the moral chaos of our times. As I read a chapter, I also blog something that stirs my heart. If you are interested, check out the posts here.
Total Church by Chester and Timmis; This is my second time to read this book – it's been almost 10 years since I read it before. Our church leadership team is going to discuss the book over the next few months so I'm getting a head start. A quote that caught my attention early in the book, "The theology that matters is not the theology we profess but the theology we practice."
Circe by Madeline Miller; As the name suggests this is mythology. It's a well-written story, not my typical genre to read but I am enjoying it!
The Bible – my husband and I are committed to reading the Bible in 90 days, cycling through that process four times this calendar year. In June we will have read the Bible twice. I'm in Matthew right now. Reading several chapters a day is a different experience than reading a few verses. It's not better, just different. Definitely worthwhile!
I am hoping
I am hoping to get back to the gym soon for regular exercise. There's a treadmill with my name on it!
I am learning
I am learning that although I am an introvert, the isolation of the pandemic has affected me more than I imagined. I am so ready for interaction. Excited to have friends over to dinner soon!
In my kitchen
I feel like my cooking skills are rusty. I used to be excited to cook for others, not anxious about the results. I've been questioning my cooking skills lately – wondering what to serve our friends for dinner. For our next get together I'm planning a pot roast with baked potatoes. While I've cooked pot roasts for ages, I'm looking at a recipe by Ree Drummond (AKA The Pioneer Woman).
Shared quotes
"Transforming grace is way more determined and powerful than indwelling sin." (P.D Tripp)
"There is nothing, there is no one than can stop the completion of God's work of the total cleansing and renewal of our hearts." (P.D. Tripp)
"Love well. Help somebody make it." (Beth Moore)
"Therefore love is the fulfillment of the law." (Apostle Paul)
A favorite moment
---
Closing Notes
I always anticipate June – is such a fun-filled month. We started the month celebrating our 47th anniversary! Next up will be a family reunion on a beach including our Father's Day Celebration. My dad will be 92 this year and I am so looking forward to spending time with him. We have a couple of special events this month – gifts from our son and his wife – a candlelight open air concert featuring Mozart, Bach and other classical musicians as well as a Van Gogh immersive experience! The summer is in full swing!
---
"I love to see the summer beaming forth!"

John Clare
---